Tutorial feedback overlays for Java applications, just 24 KB compressed.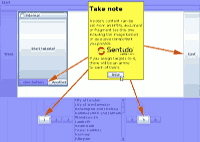 The translucent blue layer is a stencil that prevents the user from interacting with the components under it, making it easier for them to focus on the active components.
The screenshot shows a note-style call-out (another style is thought bubble) with four target buttons in the application (arrows), and one button for proceeding to the next step in the tutorial.
It's enough to specify the note content and targets, and Tutorial Toolkit finds the proper place for the call-out so that they don't get occluded, using a bespoke single-pass constraint solver.
This work was done in one month for the London Knowledge Lab, and was used in the MiGen project. It can be seen briefly in the video MiGen: Unlocking Algebra at 3'20" and 4'22".
Download (GPL license) TTK 1.0
Under dist/lib/ there is a ready to use JAR file: launch the demo application from the screenshot with
java -jar dist/lib/TTK-20121008.jar
Technical documentation in English